I've been making sourdough bread for several years now, and for the most part I've kept it very basic. Usually I make the whole wheat sourdough bread in this recipe, or something very similar. So this whole wheat sourdough country loaf is something unique and special.
Lately I've been experimenting with converting commercial yeast recipes to traditional sourdough recipes. It scared me at first… I didn't want to put the time and effort and ingredients into something that might fail.
I've sometimes felt like there was no point in trying something if I couldn't be fairly certain I would succeed. Sure, it leaves me in a "safe" place of not failing or "wasting" time or resources.
But it also leaves me in a place where I don't try new things and I don't learn or grow. And in this micro-homesteading endeavor, I need to be willing to try new things.
So I've been cultivating a different attitude: it's OK to fail. The learning process matters, and finding what doesn't work is just as valuable as finding what does work.
I'm learning to embrace failure as a step on the journey. As Thomas Edison said, "I have not failed. I've just found ten thousand ways that won't work."
This whole wheat sourdough recipe, though? Not a failure. This one was a huge success.
Over the weekend I came across Angel Rose Turner's Farmhouse Bread on Instagram, and I thought, "That sounds so good. I wonder if I could make a sourdough version."
So I did.
I made a few tweaks from her original recipe:
I used whole wheat instead of all-purpose flour because using the whole grain is one of our healthy diet principles.
I swapped the sugar in her recipe out for maple syrup because I think it's a healthier sweetener and works well in baked goods.
And I obviously converted the commercial yeast to sourdough.
The result is definitely different from hers, but it's a delicious bread that is somehow simultaneously light and soft but substantial. When you toast it, the crust becomes almost flaky.
It's basically melt-in-your-mouth good.
I won't be making it every time I make bread because the milk and butter are more expensive than the ingredients I usually use. But it will definitely be in our regular rotation.
Without further ado… here is the recipe. Please let me know if you make it and how you like it!
Yield: 2 loaves
Whole Wheat Sourdough Country Loaf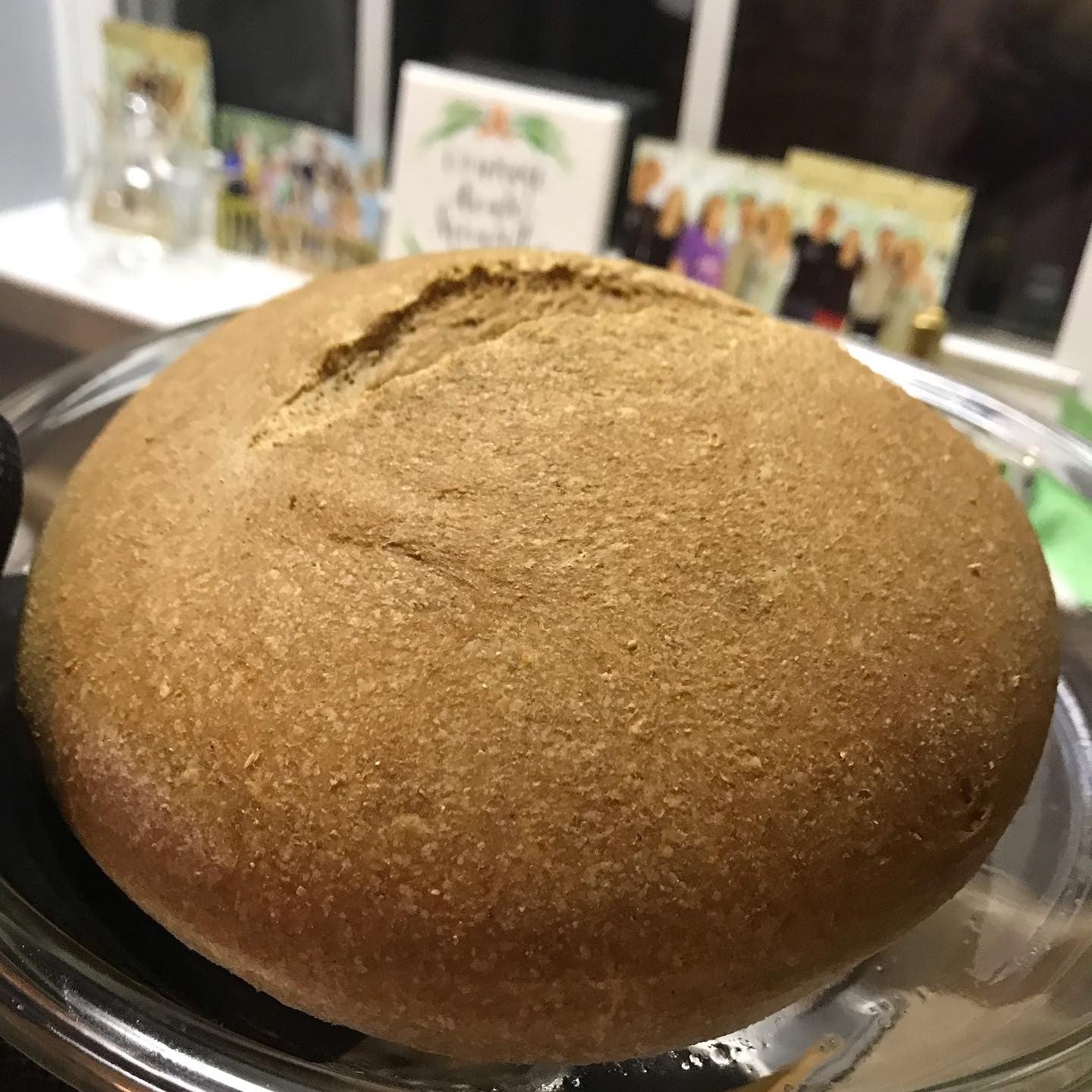 This whole wheat sourdough country loaf is my new favorite recipe! It comes out moist and soft but still substantial. Tastes amazing toasted and slathered with butter.
I prefer to make my bread in a stand mixer, but you could also knead by hand.
Ingredients
1/2 cup active sourdough starter
2 tablespoons maple syrup
1 1/2 teaspoons salt
1 egg
2 cups milk
2 tablespoons coconut oil
3 tablespoons softened butter
5-6 cups whole wheat flour
Instructions
Combine starter, maple syrup, salt, egg, and milk in bowl of mixer and lightly combine.
Add coconut oil, butter, and 5 cups of flour. Mix on low with bread hook. It's OK if the oil and butter don't mix in right away--they will become incorporated into the dough during the kneading process.
Watch the dough as it mixes. Once the flour is fully mixed in, you should notice whether the dough is still sticking to the sides of the bowl.
If the dough still looks very sticky, add flour an eighth to a quarter cup at a time, letting combine after each addition.
Once the dough "cleans" the side of the bowl (so that most of the dough is sticking to itself instead of the bowl), continue to knead until bread passes the "window pane" test. (You should be able to see light through the dough when you stretch it.)
Once dough passes the window pane test, remove the bowl from the mixer and cover with a damp kitchen towel.
Let rise for 6-10 hours, until dough has roughly doubled in size. (I let mine rise for 10.)
Remove dough from bowl and cut in half.
Let the dough rest for a few minutes while you grease two pans. (I made one in a loaf pan, and the other I shaped into a boule and paked in a pie plate.)
Shape your dough and put it pans. Cover with a damp towel and let rise 2 hours.
After 2 hours, preheat oven to 350.
Slash loaves, if desired. Bake for 35-45 minutes until the crust is golden and internal temperature is about 180.
Remove from oven and let cool slightly before removing to cooling rack. Let cool completely before slicing.
Notes
If your kitchen is especially cool, try letting the dough rise in your turned-off oven with the light on.
Normally I use raw milk, but when I am going to use it in cooking or baking, I will buy a local lightly pasteurized grass-fed milk. It's a little bit cheaper than the raw, and since it's going to be "pasteurized" anyway with the cooking process, I don't see any reason to spend more for raw.
Recommended Products
As an Amazon Associate and member of other affiliate programs, I earn from qualifying purchases.