Gotta say, I think this is the perfect Paleo brownie recipe. The brownies are cakey, with just the right amount of sweetness.
If you're anything like me, you went Paleo because you knew your gut needed some help. I was showing signs of Hashimoto's and started (mostly) following the AIP Paleo protocol. (Check out this post for some yummy AIP desserts.)
This recipe isn't fully AIP–it includes chocolate, eggs, and vanilla. But what I love about this Paleo brownie recipe is that it's full of gut-healing ingredients… Including a secret ingredient that you'll never guess!
Update 2022: my family no longer eats Paleo, though the diet itself definitely fits within my template of a healthy diet.
Let's talk about what's in these brownies. Then I want you to give them a try and let me know what you think!
Cassava flour
To make these brownies gluten-free and grain-free, I went with cassava flour.
Cassava flour comes from the yucca plant and provides a good source of nutrients, including vitamin C, potassium, magnesium, niacin, riboflavin, and thiamine.
Plus, as a good source of resistant starch, it feeds the healthy bacteria in your gut.
Coconut oil
Since Hashimoto's is a thyroid-related disorder, I am in love with coconut oil. When it replaces polyunsaturated fats (which are suspected to interfere with thyroid functioning) in your diet, it can boost thyroid function.
Coconut oil also helps to reduce inflammation and may fight bad bacteria in your intestines.
Collagen
Collagen is full of amino acids that are helpful for gut health. These include
glycine (helps promote healthy stomach acid levels and nutrient absorption)
glutamine (prevents gut inflammation and can heal leaky gut)
proline (fights inflammation and increases metabolism)
Raw honey
The conventional filtered and processed honey you find in the grocery store has had many of the nutrients removed. It's not much better than sugar.
But raw, unfiltered honey is full of health benefits. For example, it is rich in minerals and antioxidants and may promote immune health.
It's also great food for the good bacteria in your gut.
You may also like: Lavender Lemonade with Essential Oils (and Honey!)
Note that the amount of honey called for in this recipe makes for a subtle sweetness. I wasn't sure it would be sweet enough, but my son asked for seconds… So that's a good sign!
I think the next time I make them I'm going to try ripe bananas instead of honey–I'll keep you posted on how those turn out!
In the meantime, if you prefer a sweeter dessert, use the higher amount of honey or add 3 to 4 scoops of pure stevia extract.
Okra
Now we get to the secret ingredient! I promise you will not be able to tell the okra is there–but your gut will.
In addition to the fiber that keeps you feeling full and helps your digestion to move along smoothly, okra feeds the healthy bacteria in your system.
It's also high in folate, which is great if you're trying to conceive (and can help prevent miscarriage). And it's anti-inflammatory (excellent for autoimmune diseases) and helps to balance blood sugar levels.
You know that sort of gooey texture cooked okra has? That "mucus" (for lack of a better word) helps to coat and heal your intestines, too.
Check out this post for more health benefits of okra.
Yield: 16 brownies
Perfect Paleo Gut-Healing Brownies (with a Secret Ingredient)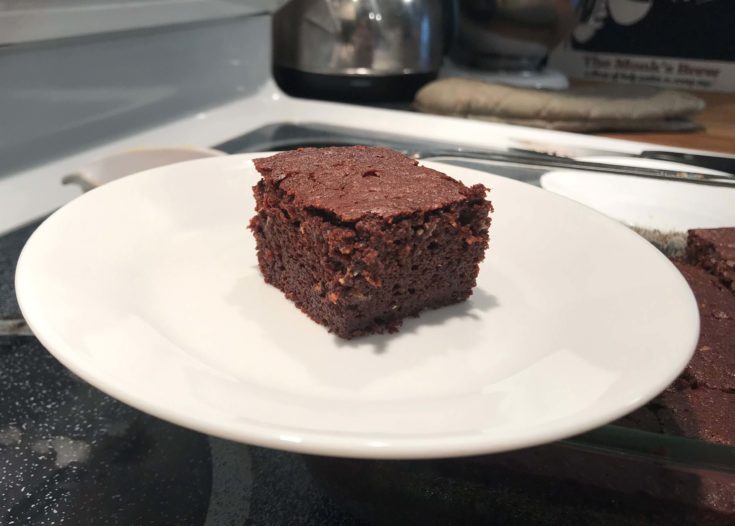 You'll love these cakey Paleo gut-healing brownies! The sweetness in these is very subtle, so if you love a sweeter dessert, use the higher amount of honey or add 3-4 scoops of pure stevia extract.
Ingredients
4 oz unsweetened baking chocolate
1/2 c coconut oil (plus more for pan)
1/2-3/4 c raw honey
1 tsp pure vanilla extract
2 pinches Himalayan pink or Celtic gray salt
1/3 c + 1 Tbsp cassava flour
1/2 tsp baking soda
1.5 Tbsp grass-fed collagen
1/2 to 3/4 c roughly chopped walnuts (optional)
3 large eggs
1 c frozen cut okra
Instructions
Preheat oven to 350* F. Lightly grease an 8x8" baking pan with coconut oil.
In a small saucepan over low heat, melt together the chocolate, coconut oil, and honey. Stir occasionally to prevent burning.
Meanwhile, whisk together the cassava flour, collagen, baking soda, salt, and optional walnuts in a medium mixing bowl.
Put vanilla, eggs, and okra in blender and blend on medium speed until very smooth. (If you don't have a high-power blender, you may need to do this part in batches.)
Add okra mixture and melted chocolate mixture to the flour mixture. Gently mix until just combined--don't overmix.
Pour into prepared pan and bake for 30 to 35 minutes, until a toothpick inserted in the center comes out clean.
Let cool and cut into 16 squares.
Notes
Store in the fridge for a fudgier texture.
Recommended Products
As an Amazon Associate and member of other affiliate programs, I earn from qualifying purchases.
Nutrition Information:
Yield:
16
Serving Size:
1
Amount Per Serving:
Calories:

177
Total Fat:

13g
Saturated Fat:

8g
Trans Fat:

0g
Unsaturated Fat:

4g
Cholesterol:

35mg
Sodium:

65mg
Carbohydrates:

12g
Fiber:

2g
Sugar:

9g
Protein:

3g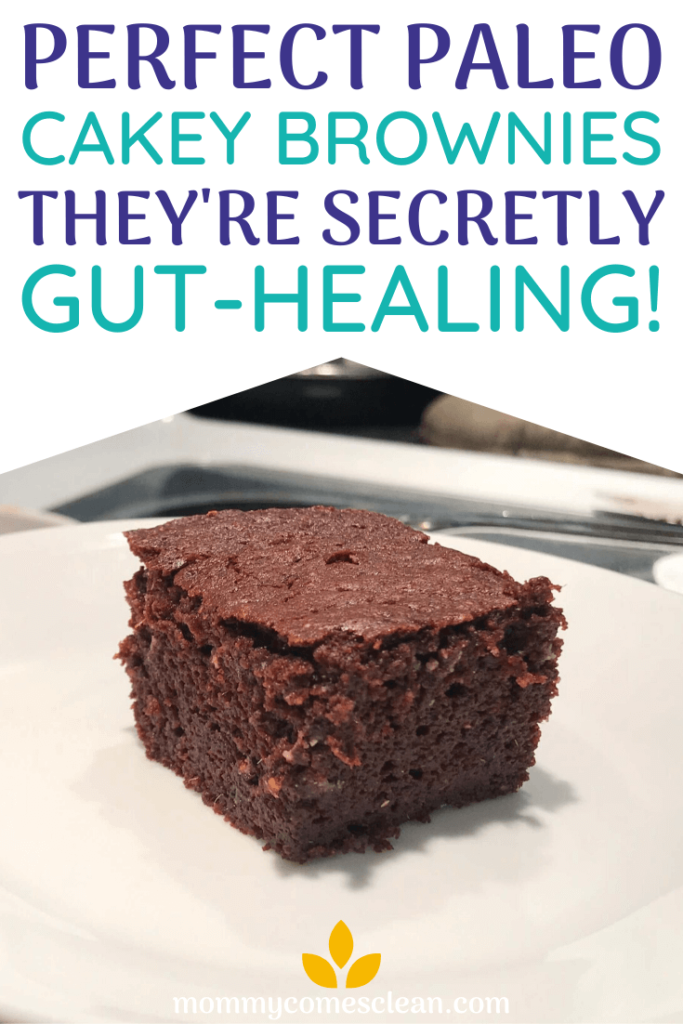 What did you think? Did you make these Paleo brownies? Did you love them? Let me know in the comments!