When I was in high school, my math teacher made the most amazing pumpkin chocolate chip cookies.
I asked her for the recipe, and when I made them with my mom, she said, "This looks more like a muffin recipe." So we made muffins with it too.
I've made them many times (both as muffins and cookies) over the years, and they've always been a hit.
But… that recipe is not Paleo (and honestly not even that healthy). So I made some adjustments to the original recipe, and though the result is something rather significantly different, it is still pretty darn delicious.
These make a perfect healthy breakfast treat. There's no added sugar (just banana), and they're packed full of healthy fats, protein, and of course pumpkin.
Side note: I no longer eat strictly Paleo, but I do believe the diet has a lot of benefit to offer people. If you're curious how my family eats now, take a look at my template for a healthy diet.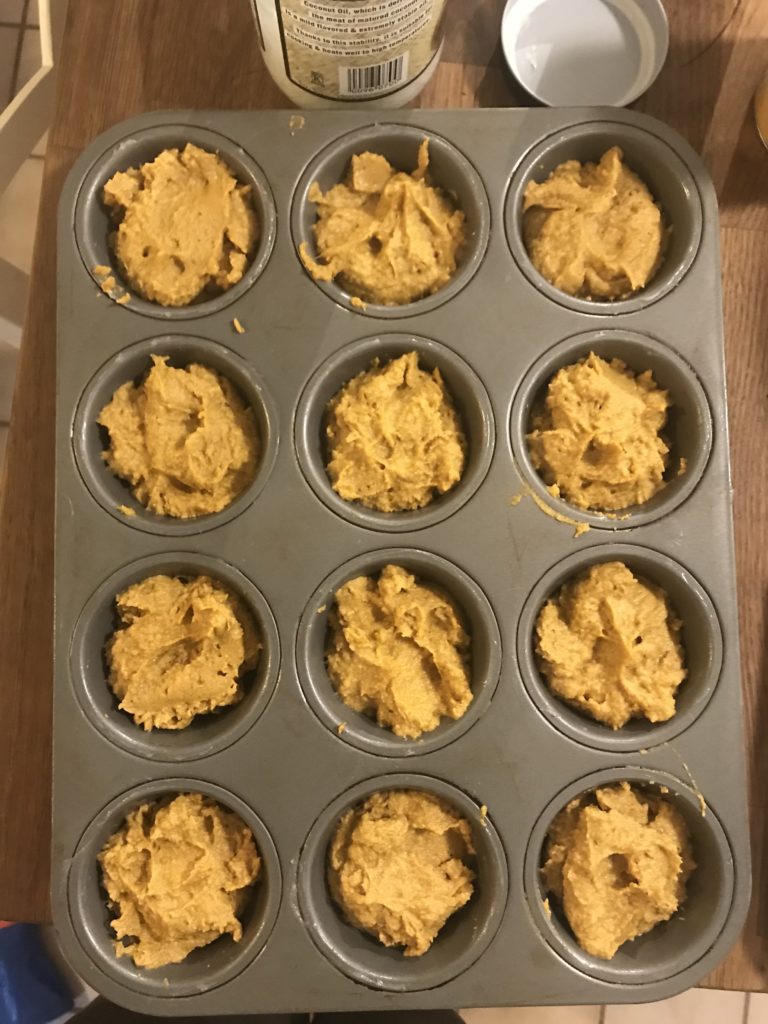 I left the chocolate chips out (mostly because I didn't have any on hand) and toned down the sweetener a bit.
The result is deliciously dense and moist, with just a hint of sweet. My kids have been requesting them at every meal.
If you want a slightly more dessert-like muffin, add in 2 cups of chocolate chips at the end!
Note that this batter makes a lot of muffins.
I've always made a few mini-muffins and a sheet or two of cookies at the same time, so I don't know precisely how many muffins it makes, but I think 2 dozen is a pretty close estimate.
If you make these and find the number is significantly different, let me know!
These pumpkin breakfast muffins are delicious, easy and fast to make. So let's get to it!
Yield: about 2 dozen muffins
Paleo Pumpkin Breakfast Muffins
With a natural sweetness that comes from bananas, these no-sugar-added Paleo pumpkin muffins are a perfect breakfast treat!
Ingredients
15 oz can pureed pumpkin
1 avocado
1/2 cup coconut oil
2 ripe bananas
1 tsp vanilla
1/4 cup coconut milk
6 eggs
1/2 Tbsp apple cider vinegar
1 cup coconut flour
2 1/4 tsp baking soda
1 tsp Himalayan pink salt
2 tsp cinnamon
Instructions
Grease well two 12-count muffin tins or line with muffin liners. (These muffins tend to stick, so you'll want to use plenty of grease in the pan if you don't use liners.)
Preheat oven to 325 F.
In a blender, combine pumpkin, avocado, coconut oil, bananas, vanilla, coconut milk, and eggs. Blend until smooth.
In a separate bowl, whisk together coconut flour, baking soda, salt, and cinnamon.
Add the apple cider vinegar to the bowl with the dry ingredients; then add the blended ingredients and mix well.
Fill pregreased muffin cups about 2/3 of the way full.
Bake in preheated oven about 25 minutes, until toothpick inserted into the center comes out clean.
Let cool completely before removing from pan.
Notes
For a more dessert-like muffin, add 2 cups of Enjoy Life chocolate chips to the final batter before putting in muffin tins.
You can also add 1/2 cup of coconut sugar for a sweeter muffin.
Nutrition Information:
Yield:
24
Serving Size:
1
Amount Per Serving:
Calories:

115
Total Fat:

8g
Saturated Fat:

5g
Trans Fat:

0g
Unsaturated Fat:

2g
Cholesterol:

47mg
Sodium:

205mg
Carbohydrates:

7g
Fiber:

2g
Sugar:

3g
Protein:

3g
What to pair these with? They're great with a side of scrambled eggs and my dairy-free, caffeine-free Freebird Latte. Or check out this list of eggless Paleo/Whole30 breakfast options.
Yum!