Over our more than 8 years of marriage, my husband and I have gone through several blenders. Our blender recipes started out fairly simple–just smoothies for breakfast several times a week while we were completing our computer science master's program.
But it's only progressed from there. By now we might be blender addicts.
We started with the cheapest blenders we could find–probably from Walmart. But we broke a couple of those…
One had a chunk knocked out of the middle of the pitcher while blending! Picture a beautiful, delicious smoothie pouring out the side of the blender onto the floor. Tears may have been shed.
Next we tried a Ninja. While it was more powerful than our el-cheapo brands, I found it difficult to keep clean (especially at the corners where it's hollowed out on the outside).
And the blades were kind of terrifying–hard to clean, and they won't stay sharp forever. Aaaaand… we broke the pitcher on that one too.
Next we went to a used Vitamix from the 70s or 80s, specifically because I wanted the stainless steel canister that wouldn't break.
As we began to near the end of the Vitamix's usable lifetime, I was skeptical about a plastic pitcher even from a high-end company like Vitamix or Blendtec. But after reading several reviews and comparisons, I finally decided to take the risk last year with a brand-new refurbished Blendtec.
My gadget-loving techy self adores our Blendtec. I ultimately chose it over the Vitamix because it's a bit higher powered and the one-touch pre-programmed blending settings make me giddy with excitement.
Yes, I am that weirdo who gets excited over high-tech kitchen gadgets. (My Instant Pot also sees a lot of use now that I've gotten used to it. But that's a post for another time.) With the touch of one button, my blender will run a preset program for a smoothie, mixing up a batter, or cooking a hot soup (and more).
Even with my busy life running two blogs and a wellness business while stay-at-home-momming an infant and a preschooler, I try to make as much of our food from scratch as possible. (Different seasons require different compromises, though. Right now I'm not making yogurt, kombucha, or sourdough bread like I have in the past.)
Related: Template for a Healthy Diet
The blender is a huge asset in my made-at-home goals. While many of the following recipes could be made in a lower-end blender, I highly recommend a high-speed blender such as the Vitamix or Blendtec for the best results.
Smoothies are the obvious blender recipe, and we still have them once a week or so. But let's talk about some non-smoothie healthy recipes you can make with your blender.
Need more healthy living resources? Check out the Pioneerish Micro Homestead Toolkit.
breakfast blender recipes
cream cheese coconut flour pancakes
When we were coming off of the Whole30, I desperately wanted some pancakes. I'd found an almond flour recipe, but when I went grocery shopping, the store was out of almond flour. In my search for a recipe made with coconut flour instead, I came across this one.
If you're cutting back on grains or carbs, these are the perfect solution to your pancake cravings. They're fluffy and serve up nicely with butter and real maple syrup. I cut out the sweetener since I don't feel it's necessary when you're topping with syrup. They were even pretty fluffy the time I forgot to put in the baking powder.
They're pretty dense, but if you're used to a big pancake breakfast, you might want to double the recipe.
almond flour pancakes
If almond flour is more your thing, try this recipe for almond flour pancakes. I have not personally tested this one, but I've always been happy with the Wellness Mama's recipes. Her cookbook was our Whole30 staple.
apple vanilla Greek yogurt pancakes
Sensing a theme yet? (Don't worry, this is the last pancake recipe!) These gluten-free oatmeal-based pancakes sound amazing! I will definitely be putting these into our breakfast rotation.
banana oatmeal muffins
We love to have muffins with our Sunday morning traditional Italian cafe latte. But I'm working to reduce our overall gluten intake, and this recipe looks like a delicious alternative. Super simple ingredients and chocolate. I mean, what's not to love?
chocolate banana oatmeal blender muffins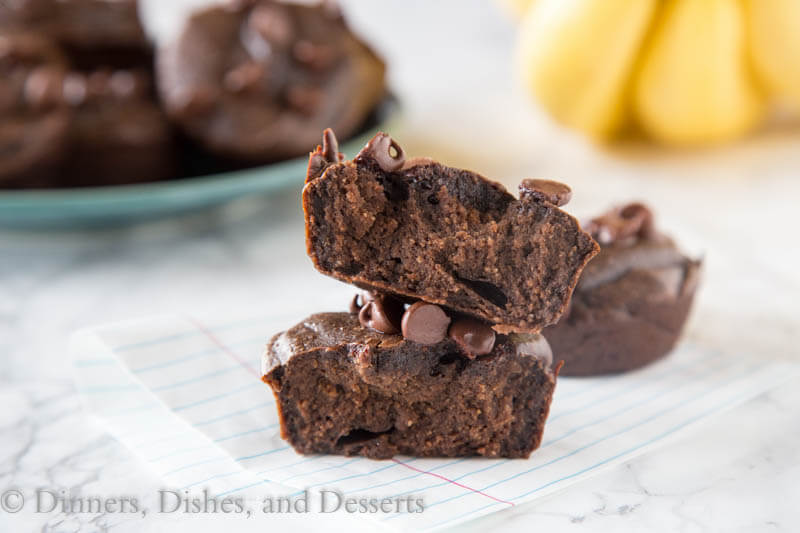 Ummm, what? Fudgey gluten-free chocolate and peanut butter muffins for breakfast–with basic ingredients we already have in the house? Sign me up please! These are SO good.
paleo crepes
You may be thinking, "Why so many sweet recipes?" Well, the beautiful thing about crepes is that they can be sweet or savory, depending on your personal preference. And this grain-free recipe uses only 3 ingredients! I'm curious to see how these would turn out with regular milk instead of the coconut milk.
spring onion frittata
We eat a lot of eggs in our house–it's one of the easiest and healthiest ways to get filling protein for breakfast. Beating the eggs in the blender is the key to getting this beautiful frittata light and fluffy.
spinach green egg muffin cups
Green eggs and ham! These muffin cups are a great, high-protein start to the day and will give you an extra-healthy greens boost too. If you don't want to fry up the ham on the side, you could easily toss it into the muffin cups before pouring in the egg mixture.
applesauce
My family and I adore applesauce. When I've made it in the past, I've used my mom's trick of doing it overnight in the slow cooker. (It's so good warm for breakfast!) But making it in your blender is much faster and simpler, and if you make it in a high-speed blender, you can run it for a little longer for hot applesauce. Not just for breakfast, but it makes a lovely side to almost any breakfast meal.
soup blender recipes
tomato artichoke soup
Canned artichokes and fire-roasted tomatoes make this recipe so, so simple. Though the original calls for cooking in a pot before blending, you could simply throw all the ingredients in your Blendtec and use the soup button for a piping hot, delicious supper.
black bean soup
Beans are a great vegetable-based source of protein, and this Mexican-style recipe combines both black beans and chickpeas for an extra dose of satisfying protein. I'd serve this topped with a dollop of sour cream and sliced avocado, with tortilla chips and salsa on the side.
thai pumpkin soup
My good friend Abby introduced me to Thai food while we were in high school, and it was seriously the best thing I'd ever tasted. Whenever my husband and I have a chance for a nice date (which is, admittedly, less often than we'd like), my first thought is to go out for Thai.
I adore the crisp fresh vegetables and the perfect melding of spices. If you love Thai too, you'll want to give this pumpkin soup a try. My mouth is watering just thinking about it!
side dish blender recipes
cauliflower rice
Cauliflower is a healthy way to add a rice-like texture to your dishes while also amping up the veggie content. But buying it pre-riced can be a little pricey, and making it can be time intensive. A high-speed blender makes the whole process a lot easier. Just pulse a few times until it's the consistency you want and season to taste. Here's a recipe for cilantro-lime "rice." Yum!
pronto potato pancakes
Pancakes aren't just for breakfast! These potato-based pancakes make a tasty, filling side for a lighter main dish. I would serve these with fish and a steamed vegetable–baked salmon and steamed broccoli would be delicious with these!
dessert blender recipes
chocolate avocado mousse
I. Love. Avocados. My family, not so much, but here's a simple way to get this super-nutritious fruit (did you know avocado is a fruit??) into my family's bellies. The hardest part of this recipe is melting the chocolate… and even that isn't really difficult.
black bean blender brownies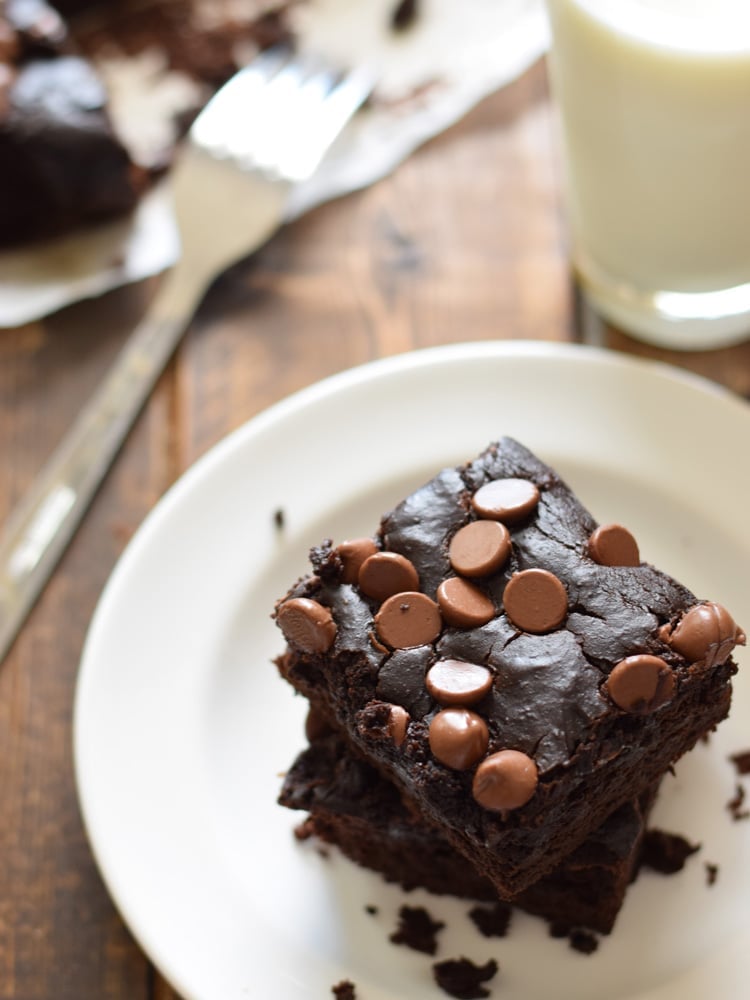 Did you know a can of black beans can make an amazing, fudgey, grain-free, chocolatey brownie? (Was that enough adjectives for you?) When I was eating gluten-free for a few years, black-bean brownies were a real treat. And no one I served them to ever guessed the secret ingredient.
I have a couple easy recipes for you here: this Mexican-style one uses cinnamon for a slightly spicy kick. And this one uses applesauce and dates for an option that's free of refined sugar.
ice cream
It's crazy to me that a tool that can be used for making hot soups can also make frozen desserts. I personally love my KitchenAid stand mixer's ice cream attachment–it makes an amazing ice cream.
But if all you have is a blender (or you just want something that's a little simpler to whip up), have a look at these easy ice cream recipes you can make in your blender. With the Blendtec, all you need to do is press the "ice cream" button.
With just one ingredient, you can make a creamy frozen treat that's awfully similar in texture to soft-serve ice cream. Add another ingredient or two for peanut butter & honey, Nutella, dark chocolate, cinnamon dulce, or strawberries & cream "ice cream."
If none of those flavors catches your attention, you can also try salted almond ice cream or this mango soft serve that fits the traditional definition of ice cream (made with cream).
sorbet
Sorbet is similar in texture to ice cream but is made with water instead of cream. Check out this kombucha-berry recipe that's both tasty and good for your gut. Or you can use your blender to mix up the ingredients for this chocolate sorbet (with only two ingredients!) and then put it in your ice cream maker.
vanilla cashew cream
Cashews are one of my favorite nuts. Blend them up with a little water and sweetener for a yummy topping for fruits or nuts. Don't have any vanilla powder? You can totally use vanilla extract instead.
condiment blender recipes
mayonnaise
I wanted for a long time to try making my own mayonnaise but was afraid it wouldn't turn out right. (I'd heard horror stories about how hard it is to emulsify for a smooth mayo.) But when we did the Whole30, I decided it was time to learn.
Apparently the key is room-temperature ingredients and a very slow drizzle when adding the oil. Yes, I was very, very proud of myself when I ended up with a perfect, creamy mayonnaise. You can find the recipe I used here.
ketchup
Yes! You can make ketchup in the blender! This one was kind of fun to put together and makes a lovely, slightly tart ketchup. The texture got a little odd after refrigerating–maybe because of the chia seeds–but you can stir it up whenever you're ready to use it. Or try storing in a squeeze bottle. Find the recipe here.
hummus
We've gone through phases in this house where the three-year old wants hummus at nearly every meal. Making your own saves money and eliminates the preservatives normally found in store-bought hummus.
If you use canned garbanzo beans, the hardest part might be stirring the tahini. Try giving this recipe a spin.
nut butter
I developed an intense love for almond butter when we did the Whole30 last month. But boy, is it expensive if you purchase it premade. I found it was so, so easy to buy a bag of roasted, salted almonds, toss about 1.5 cups of it into my Blendtec Twister Jar, and pulse for about 40 seconds. Voila! Perfect, homemade almond butter for a fraction of the cost of store bought.
You can do the same with any other kind of nut. I've made cashew butter and peanut butter the same way. Bonus: add a little cocoa powder and your favorite sweetener for an awesome Nutella knockoff.
guacamole
This homemade guacamole came in my blender's recipe book. It's delicious and SO easy. I skip seeding the Roma tomato (because I'm a rebel like that) and just toss it in, seeds and all, with everything else. I've taken this a couple times to our church's weekly post-service dinner, and it disappears fast. So make sure you prepare plenty if you're serving it to a crowd!
beverage blender recipes
coconut milk
Coconut milk is a staple in a lot of yummy, healthy recipes, but the price per can makes my frugal heart sad. I've tried DIY, but nothing quite meets the lovely creaminess of canned coconut milk… Except for this recipe. The key is to use more coconut!
cashew milk
More cashews! If you need an easy alternative to dairy milk, this cashew milk has you covered. Thick and creamy and no need to strain after blending!
citrus carrot juice
Who needs a juicer when you have a blender? Bonus: blended juice has more nutritional value than a strained juice does. Try this citrus carrot juice for a twist on a favorite.
beetiful whole-food juice drink
Who else loves beets? They're sweet, earthy, and just all-around good for you. This whole-food juice is packed full of nutritious goodness and would make a great start to your day.
What do you think? Have you invested in a high-speed blender yet? Which of these recipes will you be making next?
Enjoyed these recipes? Don't forget to save to Pinterest!