Guys, this Instant Pot Paleo chicken soup is amazing. So, so, so good.
You know those times when you're sick and you just want a hot cup of soup? This is the one you need to reach for.
Because it's made from the whole chicken, it's full of nutrients from the collagen in the bones. And you'll get all kinds of vitamins and minerals from the vegetables.
Or sometimes you need a food that's easy to travel with and reheat. We're about to leave to visit my in-laws for Christmas, and since my diet is so different from everyone else's, I made a batch of this to take with me for easy lunches.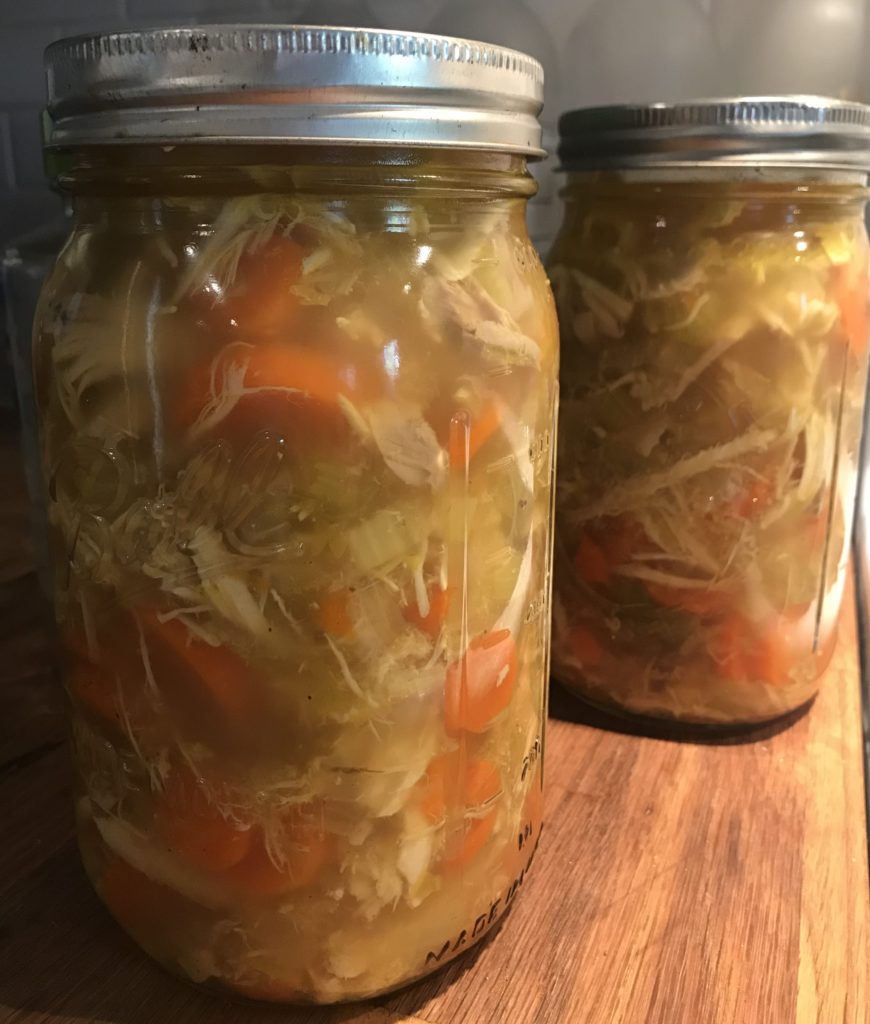 I've adapted this recipe for the Instant Pot from the stove-top chicken egg drop soup in Wellness Mama's cookbook. Her cookbook is one of my favorite real-food, Paleo-friendly cookbooks.
She's included so many easy, yummy, and realistic recipes, with several that we come back to again and again. I definitely recommend picking up a copy.
Don't have an Instant Pot yet? I recommend getting one with a stainless steel insert, like this one, so you're not leaching nonstick chemicals into your food.
Sometimes I make this Instant Pot Paleo chicken soup with eggs, like in Wellness Mama's cookbook. It's super good that way. But sometimes, like this time, we're low on eggs, so I just leave them out.
Either way, it's delicious, and I'll give you directions for both options in the recipe below. I've also slightly modified the seasonings to make it AIP friendly.
I've made this with different cuts of chicken, and varying amounts of chicken. So you can adapt it based on what you have on hand and how meaty you like your soup.
The great thing about this recipe is how adaptable it is!
When your soup is done, make sure you save the bones–my healthy diet template includes using the bones. I'll tell you in a future post how I make bone broth in the Instant Pot!
Yield: 6 servings
Instant Pot Paleo Chicken Soup
This Paleo chicken soup is versatile and so easy to make in the Instant Pot. It's delicious and super nutritious, too!
Additional Time
10 minutes
Ingredients
1 whole chicken (about 4 pounds) or 2-4 pounds of your choice of chicken pieces (see note)
2 onions
8 carrots
4 stalks of celery
1 tsp turmeric
1 tsp garlic powder
1.5 tsp salt
1/2 tsp black pepper (optional--omit for AIP)
4 eggs (optional)
Instructions
Chop the onions and slice the carrots and celery.
Place the entire chicken, breast side down, inside the Instant Pot. (You can also add the giblets if you'd like.)
Add the vegetables and seasonings to the Instant Pot with the chicken. (Don't add the eggs.)
Cover the chicken with water until the pot is about 2/3 full, less if you're using less chicken.
Put the lid on the Instant Pot and lock it into place. Set the floating valve to the sealed position.
Press "Pressure Cook" and set for 25 minutes.
For more tender chicken, let the pot depressurize naturally at the end of the cooking cycle. If you're in a hurry, it's OK to use manual release.
Remove the chicken from the pot. It will probably be falling apart, so you'll get it out in multiple pieces.
(optional for egg drop variation) Lightly whisk the eggs in a bowl. Pour them into the Instant Pot and stir vigorously to cook the eggs and disperse them throughout the soup.
Remove the chicken meat from the bones. Cut or tear into bite-sized pieces before adding it back to the pot. (I sometimes use the meat from half the chicken and save the other half for another meal.)
Serve and enjoy!
Notes
This chicken soup is super versatile! I've made it with a whole chicken, half a chicken, 2 pounds of drumsticks, 2-3 pounds of chicken breasts, and probably other options too. It's totally up to you, depending on what you have on hand and how meaty you like your soup.
Nutrition Information:
Yield:
6
Serving Size:
1
Amount Per Serving:
Calories:

238
Total Fat:

10g
Saturated Fat:

3g
Trans Fat:

0g
Unsaturated Fat:

6g
Cholesterol:

212mg
Sodium:

757mg
Carbohydrates:

10g
Fiber:

3g
Sugar:

4g
Protein:

25g